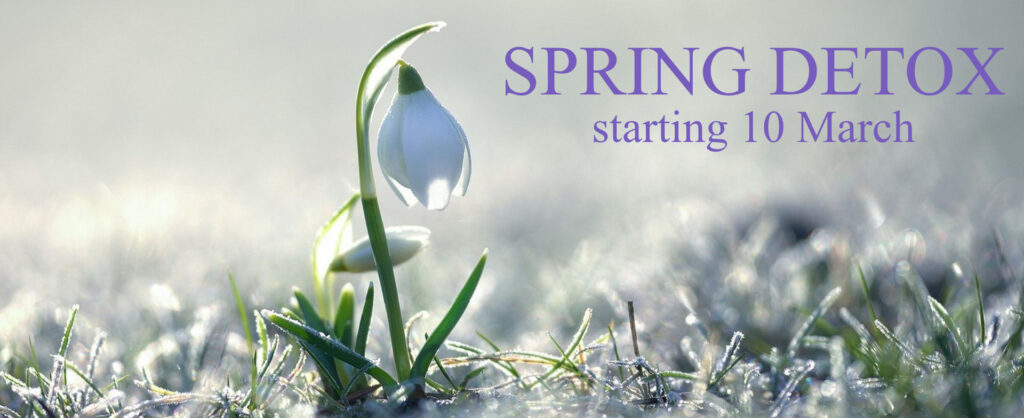 DO YOU WANT TO
– gain more energy and enthusiasm by improving your digestion?
– forget what headaches, sleepless nights and aches and pains mean?
– have a stable mood and less food cravings?
– get closer to your ideal body weight that stays?
– see your eyes glowing like many years ago?
– build a strong mental base for healthy habits?
SPRING DETOX PACKAGE INCLUDES
– an individual consultation of 45 minutes (including tongue analysis) to tailor the detox to your unique body‑mind constitution + an individual 30 min. follow-up by e-mail, phone or in-person.
– a set of Ayurvedic kitchen herbs for 3 days for the delicious detox meal Kitchari and detox tea
– a detailed reader entailing your ideal Ayurvedic daily detox regimen, abdominal massage instructions and tips on motivation challenges
– simple & yummy recipes for inspiration
– 3 daily emails during the Active Detox (Phase 2) supporting you in the process

– 2 live meetings:
setting intention in a guided vizualisation (by Léonie de Dreu), learning abdomen massage technique
evaluation, sharing experiences, tips on how to integrate the new habits

– 2 online meetings:
a guided meditation (by Léonie de Dreu)
a guided Yoga Nidra – reset of body and mind (by Léonie de Dreu)
connecting & sharing

– 3 Yin Yoga classes of your choice at Léyoga in March and April 2023
– individual guidance by email or phone during the 2 detox weeks, if needed.

Your investment: € 157,- for Léyoga members; € 187,- for non-members.
Sign up for Spring Detox till 3 March by sending an email to ayurveda@bare-foot.nl or using the form below.
The number of spots is limited, so don't hesitate too long.
SPRING DETOX PROGRAM – WHAT, WHEN, WHERE
INFORMATION EVENING
(with no commitment to participate in SPRING DETOX)
Friday 17 February at 19.00 in Cocoon Club

who should detox and why it's so important
what happens to your body & mind during detox
the program of Spring Detox
PHASE 1 – MOVING IN
Friday 10 March at 19.00, Cocoon Club

setting intention in a guided meditation
learning abdomen massage technique
foods to avoid, the importance of mind, Q&A
PHASE 2 – ACTIVE DETOX
Saturday 18 March at 11.00, online

a guided group meditation
connecting & sharing
PHASE 3 – MOVING OUT
Sunday 19 March 19.00, online

guided Yoga Nidra
connecting & sharing
tips on how to enter Phase 3 of Detox
EVALUATION
Friday 24 March at 19.00, Cocoon Club

sharing experiences
tips on how to integrate the new habits
Want to learn more about what detoxing does to you and what happens during the process? Read HERE.