---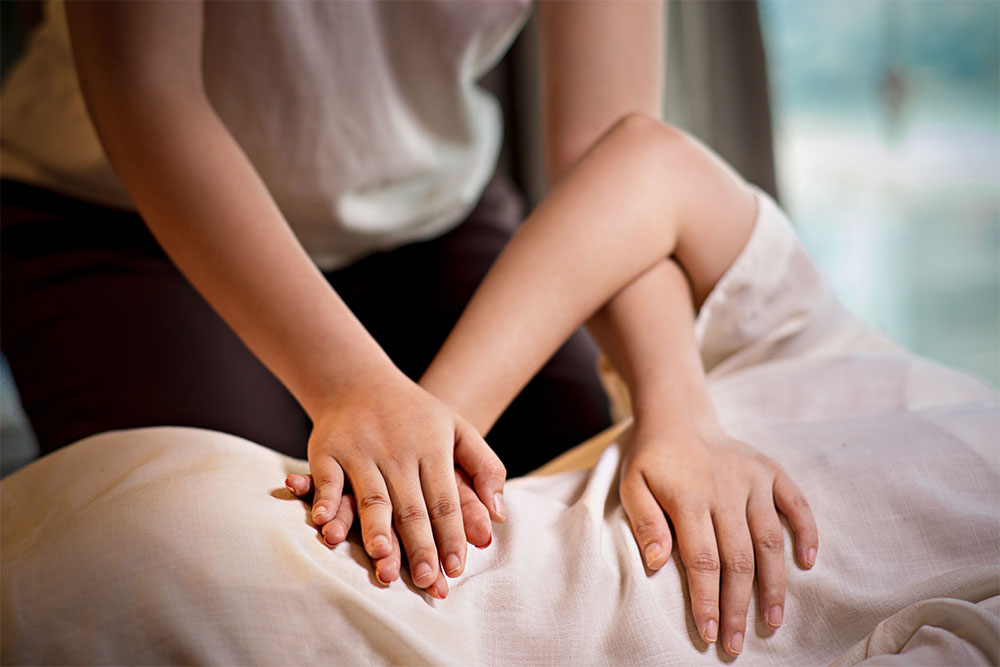 THAI MASSAGE, REVISITED
Saturday, 14 January 2023, 10.00-17.00

Yes! After a longer break, this course is back and I am excited to meet you all and share.
THAI MASSAGE or "yoga for lazy people" is a form of healing. A harmonious flow of movements and touch synchronized with your breath and the breath of your partner. A moving meditation.
This ancient healing system opens blocked energy channels and renews the energy flow in the body. When energy flows freely again, headaches, anxiety, joint and muscle pain decrease, you sleep deeper and the mind calms. After Thai massage, higher energy levels are often experienced by both, the giver and receiver.
YOU WILL LEARN
more than 35 different techniques using your fingers, palms, elbows, feet and the body biomechanics. These techniques are arranged by me in a harmonious sequence allowing you to give attention to your partner's body from head to toes. Funny and a little challenging elements are included. Unlike in other known forms of massage, the client stays dressed in comfortable clothes.
The sequence you will learn will be enough to perform a full-body 1-hour long safe and deeply relaxing Thai massage session.

GOOD NEWS
for those who were present in the first workshop: we will learn several new techniques that you can integrate with your existing Thai massage knowledge. It is also an opportunity for you to enhance and deepen the experience of this beautiful massage by practicing to sync your breath and movements with your partner's breath.
The leading principle of the workshop is safety. No dangerous postures will be practiced.
We will work in pairs. Come with a friend or family member (it will also be cheaper! see prices below). If you join alone you will be paired up with a buddy before the training.


AGENDA

9:30 – 10:00 arriving, tea, coffee

10.00 – 10.30 a short insight of the history and the basic principles of Thai massage.
Tuning in with your partner with a breathing exercise.

10.30 – 13.45 practice

13.45 – 14.15 lunch break

14.15 – 17.00 practice. Depending on the group dynamics, the workshop may last ~15 minutes longer or shorter.
YOUR INVESTMENT
EUR 85,- p.p. We will work in pairs. If you come with a buddy (partner/friend), the price for 2 people is EUR 150,-.
Printed materials, tea, coffee, small snacks and a cozy atmosphere with Thai music in the background are included.
Only 10 spots are available. I want to give you as much attention as possible.

EARLY BIRD RATE
EUR 70,- p.p. if you sign up before 31 December.

CURIOUS? WOULD LIKE TO SUBSCRIBE?
You can ask questions and subscribe by writing to Gunita to ayurveda@bare-foot.nl. Please indicate in your e‑mail if you participate with a buddy (partner/friend) or will come alone.
If you have heart, spinal cord, blood pressure problems (too high or too low), diabetes, cancer or other serious health problems, or have undergone operations, have varicose veins, (muscle, bone or soft tissue) injury or if you are pregnant, please indicate it in your e-mail.

PRACTICAL INFO
@ Please take 2 blankets per person, warm socks and lunch with you.
@ Make sure you wear comfortable, stretchy clothes.
@ Some massage techniques involve using your fingers. Your massage buddy will appreciate short nails 😉

The workshop language: Dutch will dominate. English might pop up here and there :-).
Location: Cocoon Club, Deventerstraat 130P, Apeldoorn.

SEE YOU SOON!!

---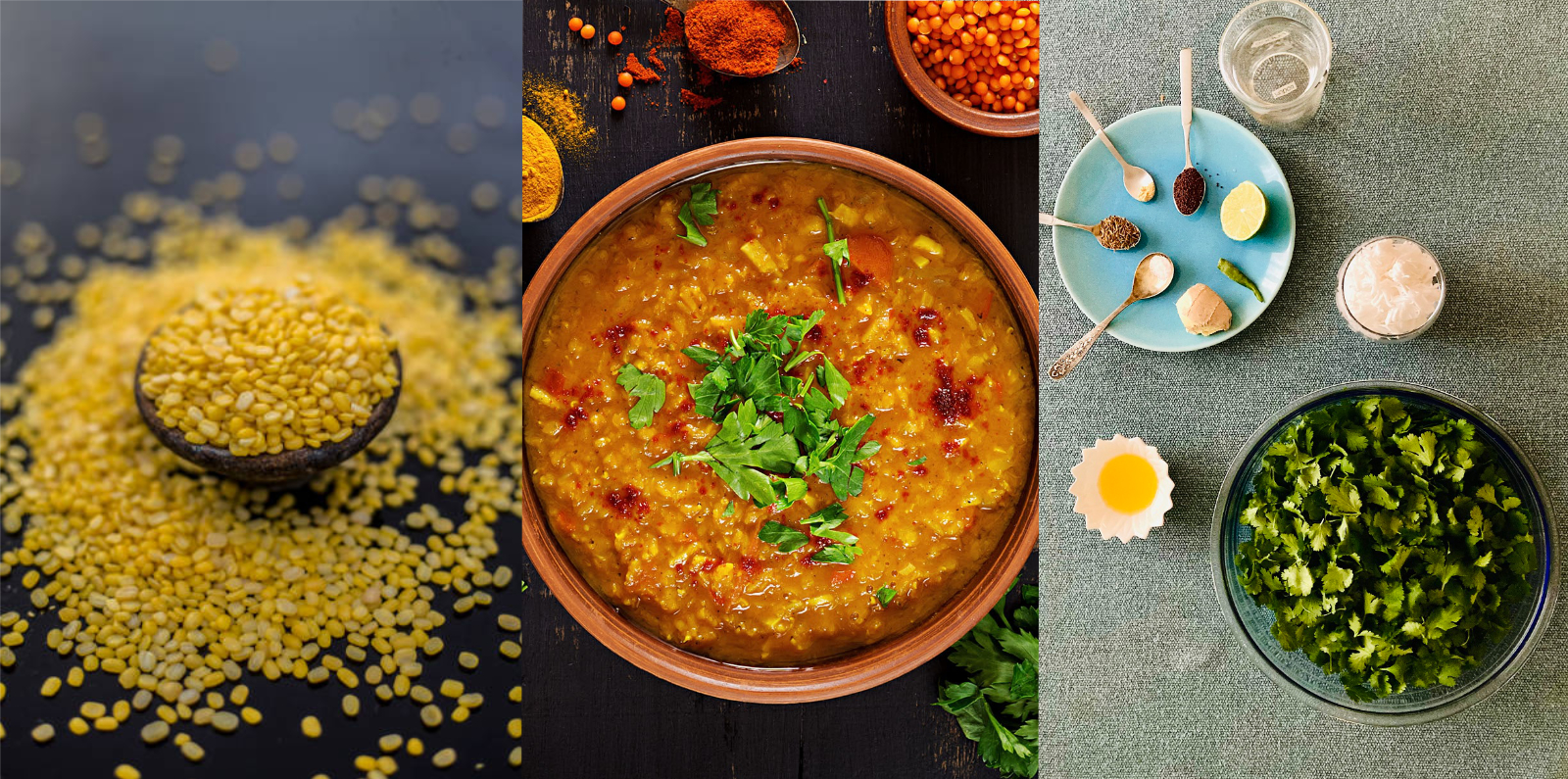 AUTUMN DETOX
30 September – 2 October, 2022

September, October is the junction between two seasons, two extremes – when the summer heat recedes, but the bitter of the winter cold has not arrived yet. It is the time when the nature's elements rearrange and are super erratic. The same happens in our bodies. The accumulated heat of the Sun and energy from doing sports, travelling and meeting friends needs to be stored wisely for the cold and inert winter months.

In Ayurveda, the junction of seasons is the best time to detox. Give your body a break and allow it to do its job – transform the summer energy wisely into good immunity and resilience for the long, cold winter.

DO YOU SOMETIMES FEEL LIKE
– your digestion is less than optimal; keeping your weight stable is difficult
– you start your day with big plans, but because of low energy you end up with only half of the to-do list done
– the temptation to snack defeats your willpower; you feel sluggish and heavy
– aches and pains, headaches and unexplained mood swings mess up your day
– you miss a good night's sleep that doesn't let you live at your full potential?

READY FOR A HEALTHIER LIFESTYLE CHOICES BUT DON'T KNOW WHERE TO START?
Ayurveda says that all these symptoms are messages of imbalance in our lifestyle and can be worked on by periodic detox.


My first detox was about 15 years ago. Having always been thirsty to explore the miraculous workings of the human body I did it on my own, with little knowledge, but great curiosity. The wish to challenge myself and see what happens was immense. The 3 torturous days without food gave me an insight that the potential of my body and my willpower are a gazillion times greater than it might seem. I learned that much more control over my body and mind is in my own hands than I have ever been taught at school or home.
In this FULLY CUSTOMIZED AND GUIDED AYURVEDIC DETOX you will learn to hear your body better and effortlessly make the right choices for better health.
By learning to notice and follow your body's signals, this detox will help you to
– build a strong base for healthy long-term lifestyle habits
– intuitively start choosing healthier foods and decrease snacking
– learn to be the master of your energy levels and well-being.

During this CLASSIC and SAFE Ayurvedic detox we will prepare easy, satisfying recipes. You won't feel hungry and will have enough physical and mental energy for your daily tasks!

WHEN YOU DETOX
– the digestion capacity is reset and new energy flushes in
– the accumulated heaviness is released and you become more aware of the subtle messages of your body
– you awaken the body's self-healing power – a unique way to prevent disease.


DETOX PACKAGE INCLUDES
– one-on-one consult of 30 minutes to tailor the detox to your unique body-mind constitution
– a set of herbs for 3 days for Ayurvedic detox meal Kitchari and detox tea
– abdomen massage instructions, daily detox regimen, simple and yummy autumn recipes, tips on motivation challenges and much more
– 3 daily emails during the active detox days supporting you in the process
– 2 live + 3 online meetings to find ease in the process by a guided meditation and relaxation exercises; Q&A
– individual guidance, if needed; follow-up after the detox.

This detox lasts 14 days. It has 3 phases:
Phase 1: preparation. Gradually weaning yourself of all heavy to digest foods.
Phase 2: active detox 30 September – 2 October
Phase 3: build-up. Gradually returning to your normal eating pattern.

You will shape the intensity and pace of Phase 1 and Phase 3 yourself according to your wishes and capacity. I will support you all through this time.

Phase 2 lasts 3 days and is the active detox phase. Please see the full program below.

THE PROGRAM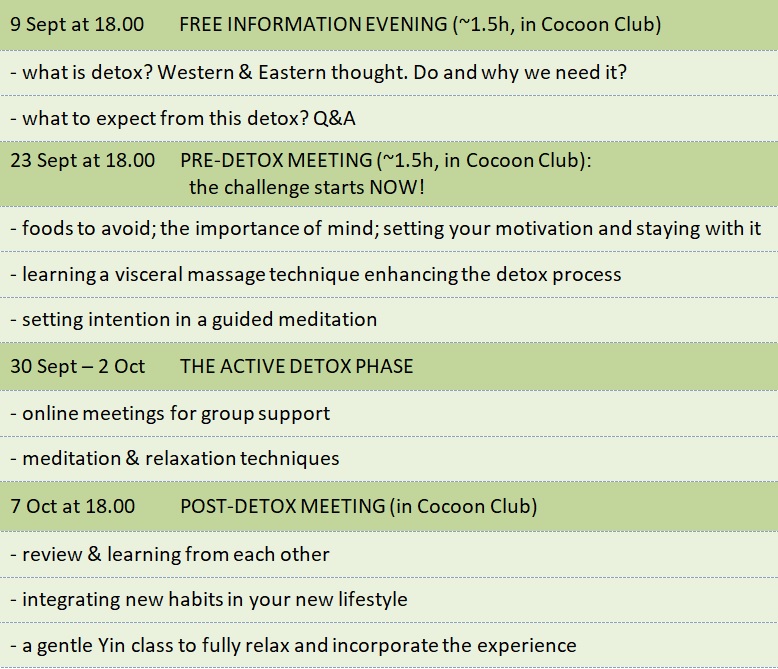 Teachers: Gunita Bauere, Ayurveda Practitioner & Léonie de Dreu, Yoga Teacher
Does this resonate? Don't hesitate and join us!
Signing in for FREE INFORMATION EVENING by sending an e-mail to Gunita ayurveda@bare-foot.nl.
Signing in for DETOX by 19 September.
Your investment: EUR 133,-
All live group meetings and individual appointments take place at Cocoon Club Apeldoorn, Deventerstraat 130P.